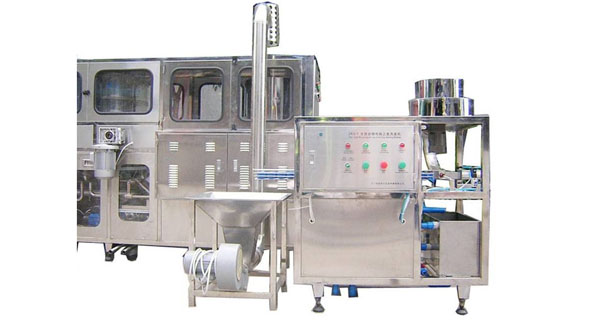 Auto Cap Feeding & Washing Machine
The machine uses drum-type washing cover
Placed the cap in the wshing drum and repeatedly sterilized.
Disinfectant rinse -Pure water rinse -Rolling Drain –Breeze cover process automation, each working time can be adjusted.
Send cover sterile body breeze,, very low failure rate

Working principle of the cap feeding and washing machine
1) Turn on the Air Protection Switch and the Emergency switch. Set "Option switch" to the position of "Automatic", press "Startup" ,the device work automatically.
When the work signal which connects to the bottle pushing pneumatic valve of filling machine is activated, the cap sorter motor starts to work immediately, then send the caps along the cap sorter to the cap direction exchange pneumatic valve endlessly. When there is signal from cap inspection switch forward and backward, the cap outlet direction exchange pneumatic valve is electrical and starts to work immediately, conveying the cap pushing cylinder mechanism to push the cap with neat vertical into cap washing track, and passing through two work stations. The first one is disinfectant washing work station, and the second one is pure water washing work station. After the high pressure disinfectant washing and pure water washing from the nozzle which is installed around the orbital slot, depending on the pushing-force which cap pushes cap to send the cleaned cap to the cap feeding funnel. At the same time, the blower begins to run, making a large wind to send the cap to the cap sorter pan along the firm stainless steel pipe easily. At this point, a cap washing and cap feeding cycle finished.
What's more, there is a cap shaking nozzle installed in the cap sorter pan. The cap outlet direction exchange pneumatic valve works every five times as well as the cap shaking pneumatic valve works once.
2) Instruction of indicator
There are four indicators including "Power supply", "Working status", "Cap shortage" and "Error" on the control panel.
* Power indicator: Turn on the Air Electric Leakage Protection Switch and the stop switch, the power indicator lights up.
* Working status indicator: The indicator is off when it is positioned to "Manual" status. Press "Startup switch", the indicator keeps lighting up while it is positioned to "Auto" status.
* Cap shortage indicator: The indicator lights up as soon as no caps reaches to the cap pushing area when the cap sorter is at work.
* Error indicator: The indicator keeps lighting in case of shortage of air source.
Tech of the Cap Feeding & Washing Machine
Production capacity 300–600 Buckets/hour
Cap's specification (mm) Φ28×15 (strip:L18mm,W:7.5mm)
Rated input power 0.15KW
Electromotor power Conveying electromotor 0.12 KW (one )
Input Voltage AC 380V±5% 50HZ 60HZ
AC 220V±5% 50HZ 60HZ
Rated current 0.5A 1A
Net weight 120kg
Outer size 2000×180 (underframe:400)×3000(mm)