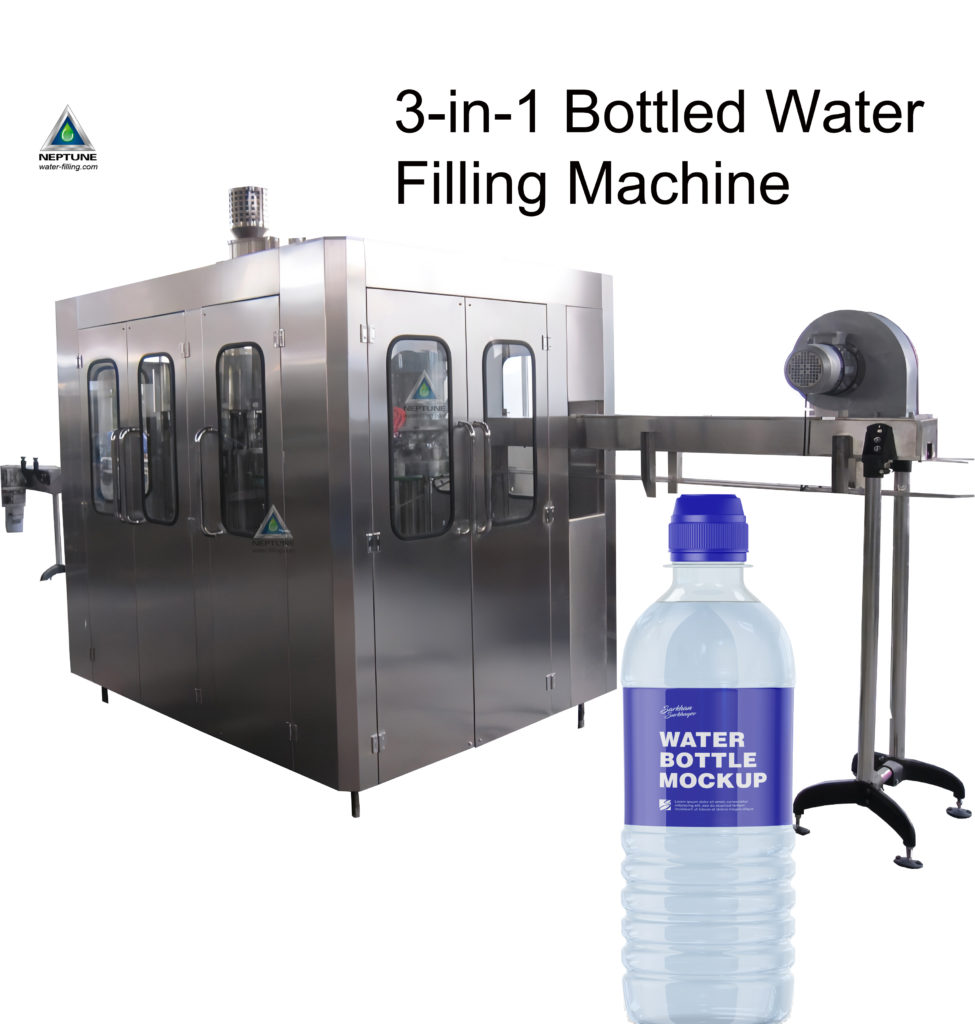 It collect rinser filler and capper in one machine. Make sure clean water filling environment. It is the best sell water bottling machine for small bottle like 500ml and 1.5liter bottle.
Water Bottling Machine
1) Rinsing system: Rinsing gripper dial, separating water dial, water trough
2) Filling system: Liquid tank, filling valves, controlling rings
3) Capping system: Screwing capper, cap sorter, falling cap guide
General description of the (3-in-1) water bottling machine

XGF Washing-Filling-Capping (Three-in-One) Unit made by our company is a new product which is researched and developed on the base of importing ,assimilating and absorbing the advanced technology of the same kind of domestic and foreign products, combining several-year-production experience of the company. The unit collects washing, filling and capping together. It is driven by a transmission motor. It has advantages, such as high automation level, compact structure, beautiful appearance, convenient and simple operation, safe and reliable and adjustable continuous production capacity and others. It is an ideal no-gas liquid filling production equipment in the country. It is mainly suitable for filling and capping of round or square polyester bottles. According to the demands of different specifications of users, it is only changed a little in design to meet the user's demands.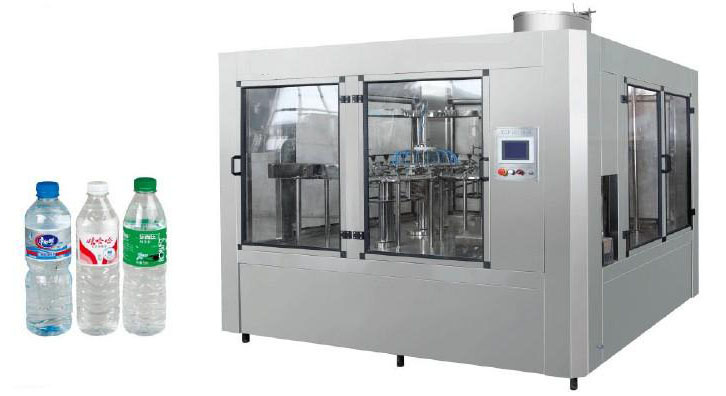 Main Technical Parameters of  Water Bottling Equipment
Capacity Scale of Bottle: 350—2000ml;
Diameter Scale of Bottle: ¢50mm–¢90mm;
Height Scale of Bottle:160mm-310mm;
Drink Kind: Mineral Water, Pure Water, Fruit Juice, Wine and other no-gas liquid.
(3-In-1)Water filling machine working process
The monoblock filling machine works as follows: Bottles are fed from conveyor chain into the filling machine monoblock via star wheel. Bottle clamp installed on the rotary wheel of the rinse will grip bottle mouth and make a 180° turn along a guide track to face the bottle mouth downward. In designated section of the rinse, rinsing water will jet out from special nozzles to flush bottle inside wall. After rinsing and dripping, bottles gripped by bottle clamp will make another 180° turn along a guide track to resume bottle mouth facing up position. Clean bottles are discharged out of the rinse by a star wheel to feed the filler. After entering the filler, bottles are retained by neck supporting carrier plates, which are actuated by bottle carrier mechanism to raise them to engage with filling valves. Filling valves are opened by bottle presence signals. After finishing filling, valves are closed by valve closing mechanism to further stop venting to complete the filling process. Bottle carrier mechanism is lowered by a cam to disengage filled bottles with filling valves. Then bottles are transferred into the capper by a neck handling star wheel. Anti-rotation blades on capping heads will seize the bottleneck to prevent it from rotation and hold it in a upright position. The twist-on capping head will make revolving and rotating movement along with the machine to finish the complete capping process of cap picking, placing, twisting, and disengaging under the control of a cam. A discharge star wheel discharges finished bottles onto discharge conveyor belt to be conveyed out of the filling monoblock.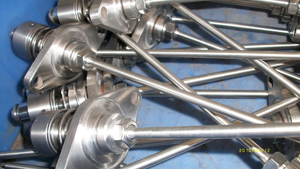 Main features of the water bottling machine.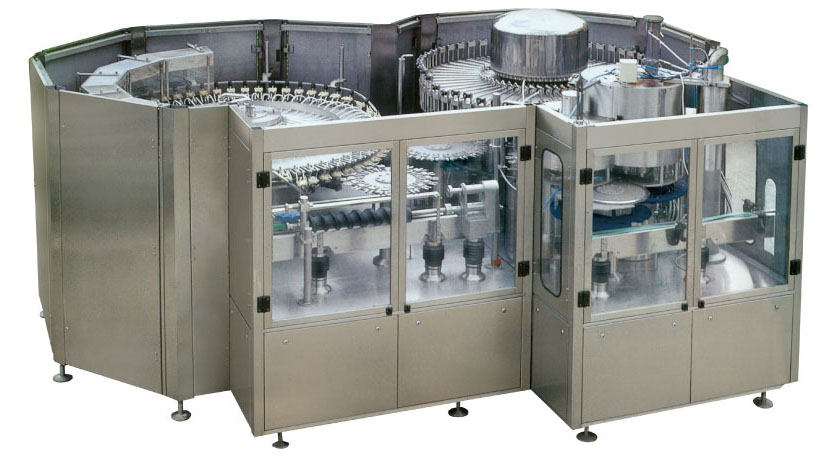 1.Bottle in feed
1) Bottle in feed by combination of in feed screw and in feed star wheel
2) Equipped with bottle jam protection device.
2.Rinser
1) The rotary wheel is a fully AISI304 stainless steel welded structure.
2) The high efficiency atomizing spray nozzle installed on bottle clamp incorporating technology from Spaying Systems Co. Ltd., is capable of cleaning any part of bottle inner wall, and also saves rinsing water.
3) Covering of bottle clamps and elevator are product of IGUS
4) The rinse is driven by driving system positioned inside machine frame via gear transmission.
3.Filler
1) The filler is designed and manufactured with application of Italy technology, providing hardware guarantee for securing product quality and reducing loss.
2) Rotary wheel are fully made of stainless steel AISI304.
3) Filling valves are designed and manufactured with German technology, made of AISI316L, featuring high filling accuracy and high filling speed.
4) Bottles are raised and lowered by cam controlled lifting cylinder. Valve opening mechanism is actuated by air cylinder.
5) All sliding bushes of lifting device use Igus (Germany) anti-corrosion maintenance free bearing.
4.Capper
1) The capper is most precise part in3 in1 filling machine, because the quality of machine is important to running credibility and product quality.
2) The cover track has the device to prevent the reversal cover from passing and pick out the reversal cover. Meanwhile the photoelectric switch can stop the machine automatically when there is no cover on the track, by which it can avoid bottle without cover effectively.
3) It also has the bottle check-up switch. Together with cylinder on the joint of the cover track and cover lift, they can control the cover flow and stop it in case no bottle to reduce the quantity of cover.
4) Highly effective acentric way for cap sorting to reduce the abrasion.
5) It has the check-up device to control the cover lift.
5.Main configuration of the three-in-one washing filling capping machine:
1)Material of filling valve and liquid tank is 304
2) Main motor:National brand
3) Sliding bearing:Taiwan
4) Frequency inverter: MITSUBISHI
5) Touch screen:Taiwan
6) PLC: MITSUBISHI
7) Pneumatic components: Airtac
8) Seals:National brand
9) Photocell switch and proximity switch:Taiwan
Cap Elevator SG-1
1. Summary
This machine is the accessory of Washing-Filling-Capping 3-in-1 Unit. It can convey unorderly caps to the chute of the cap orderer and prepare for the next procedure. It has novel structure and is easy to operate, which has not only lightened the intensity of labor but also satisfied the sanitary requirement of the whole production line. So it is the necessary machine for the drink producing company of middle or top grade.
2. Technological Parameters
(1) Model: SG-1
(2) Production Capacity: 4000~12000pcs/h
(3) Power: 0.34KW
(4) Weight:60KG
(5) Dimension: 700×500×800(mm)