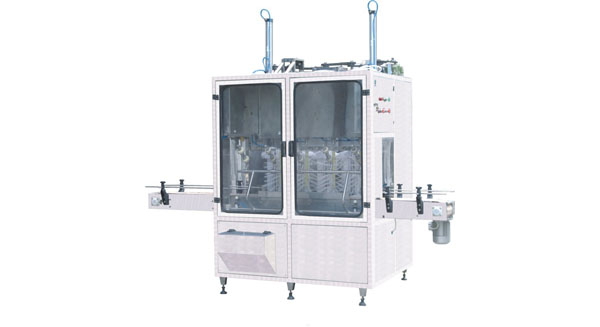 Automatic Bottle Internal&External Brush Washer
Automatic bottle Internal & exterior brush washing machine is designed for pre-wash the reusable 5 gallon bottle by detergent washing and clean water washing for cleaning the dust, oil things Inside &outside of the bottle to improve the washing filling capping system of the main machine, it is geared by high grade Nylon brushing system for washing the bottle bottom, bottle body, bottle shoulder part, controlled by PLC control system.
Auto inside & outside bottle washer Introduce
Auto inside & outside bottle washer manufactured by our company. This device is the latest practical product which is developed and manufactured by using the improved assembly line.
The machine is an inside and outside washing device for 5 gallon recycled bottle which is manufactured according to the clients' requirement. After coming into the market, it is well accepted by water equipment industry from home and abroad.
The operation procedures of Auto inside & outside bottle washer: bottle entering;bottle checking;inside washing;bottle out.It is controlled and completed by PLC automatic through precise orientation with little manpower and low working intensity. Electric
module to adopt import series edition binding etc. In order to make the performance of the device more stable, electrical components manufactured elaborately by imported series of products.
Mechanism of the Auto inside & outside bottle washer
1. Framework
Main supporter of the machine consists of stainless steel foursquare pipe with beautiful appearance and firm structure. Subsidiary supporter which is joint to the main supporter functions for separating the workaround and supporting.
2. Electrical system
The electric part consists of PLC controller, AC contactor, Fuse and Air switch
3 Pneumatic systems
Pneumatic part consists of Cylinder, Pneumatic electromagnetic valve and pneumatic control electric control box.
4. Scrubbing system part
1) The brush system
The system is based on a whole framework .with brush pump and brush air-lifted valve fitted on it. The working process: brush air-lifted valve brings along the brush pump up and down, then brush pump drives the brush to wash the inside of bottle.
2) Water tank
The water tank is made of stainless steel with circumfluence pine and adjustable hydraulic pressure controller. User can adjust the hydraulic pressure accordingly. It also has heat-generated tube, temperature controller and floater swift. When the temperature of water reaches the prescriptive temperature or the water level is lower than the floater swift, the heat-generated tube will stop generating heat.
3) Rinsing route
The pipe of the machine is the plastic one used for the pneumatic system.