Automatic Caps Removal Machine
Automatic caps removal machine is specially designed for pulling out the recycled 5 gallon bottle caps, with gently designed pneumatic clamping head to remove the caps without broken the recycled bottle by automatic PLC controlling system and the pneumatic system. With infra-red sensoring system to check the caps for accurate caps removal.304 stainless machine frame and machine body
Inquire Now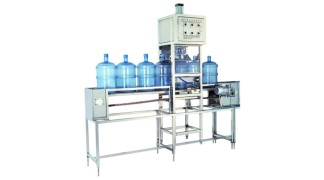 Auto Cap pulled Machine
Auto cap pulled machine is developed and produced in the light of the national drinking water tests and by reference to the latest model from oversea. It is applicable for the 5 gallons recycle bottle cap pulled and absolutely necessarily for the empty bottle retreating assembly with the integration of simple configuration, effective cap pulled, little dilapidation to the cap, small distortion and efficiency for using.
Inquire Now
Working Process of the Auto 3/5Gallon Cap Pulled Machine
Microcomputer cap removal pulled procedure is from bottle entering  ,bottle checking , cap pulled,cap reclaiming, bottle out. It is controlled and completed by PLC automatically through precise orientation with little manpower and low working intensity. The complete set of equipment is manufactured by high-tension stainless steel materials and stainless plate steel with precise argon arc, infrequent distortion and fair welding veins; The conveying component structures with stainless steel to assure normal running of the device under various conditions; Nonmetallic components are manufactured elaborately by wearable materials, such as nontoxic PP plastic, etc; In order to make the performance of the device more stable, most of conveying electromotor and booster pump are those products for exportation and electrical components are manufactured elaborately by imported series of products or name brand series of products at home.
 Mechanism of the machine
1. Framework
Main supporter of the machine consists of stainless steel foursquare pipe with beautiful appearance and firm structure. Subsidiary supporter which is joined to the main supporter functions for separating the workaround and supporting.
2. Electric system
The electric part consists of PLC controller, AC contactor, Time Relay and Air Switch.
3. Pneumatic system
The pneumatic part consists of Cylinder, Pneumatic electromagnetic valve and pneumatic control electric control box.